Main content starts here, tab to start navigating
Slide 1 of 3
Slide 2 of 3
Slide 3 of 3
Wine Club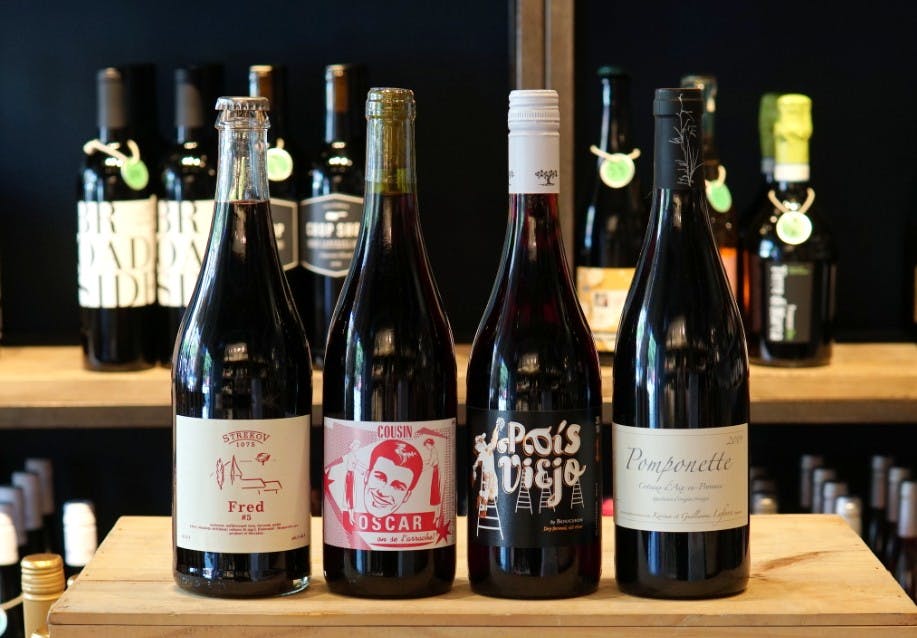 Bringing You Biodynamic, Organic & Natural Wine Straight From The Vineyards To Your Doorsteps!
Foragers Wines in Chelsea is a tiny gem of a wine shop that specializes in natural wines from the world's greatest wine growing regions. With a similar ethos as our market products, we edit down the selection and curate a truly unique selection of bottles at all price points. Our truly hospitable and well versed staff will assist you with our wide array of unique wines that will be sure to please your palate and broaden your wine drinking experience.
---
Featured Natural and Organic Wines
Our weekly highlight featuring our favorite, budget-friendly wine selected by our staff.
Red Wine
Swick "Bring It" Red Blend, Oregon, $32/btl
A low-intervention red blend, this wine is aromatic, juicy and full of enticing herbal character.
Foradori "Lezer" Teroldego, $30/btl or $60/magnum
A light and lively bottling by Biodynamic farmer/winemaker extraordinaire Elisabetta Foradori. Bright, clean, juicy, and all-around delicious!
Thee & Thou GLHF (Good Luck, Have Fun) Red, $22/btl
A light-bodied blend of Garnacha and Graciano from California. Harvested early for optimal freshness, this wine shows electric energy with pleasant red berry notes and a subtle hint of spice.
Domaine de la Patience Red Blend, $16/btl
A fresh, balanced red with notes of dark berries, country herbs, and fresh red plum. Juicy enough to sip on its own, but versatile enough to pair with dinner any night of the week.
White Wine
Delecheneau Trinqu'ames Sauvignon Blanc, $20/btl
A classic Sauvignon Blanc from the Loire Valley in France, this bottle makes a great stand-in for Sancerre with its crisp mineral and lemongrass notes. Springy and delicious!
Vorspannhof Mayr Gruner Veltliner, $17/1L btl
Refreshing and crisp with notes of lime, honeysuckle, and yellow fruit undercut by vibrant minerality, this is an easy partner to fish, chicken, and light salads.
Palacios de Canedo Godello, $22/btl
An enticing blend of ripe orchard fruit, white flowers and subtle salinity give this Spanish white both character and drinkability to spare. Our go-to pairing for roasted chicken or sushi!
Orange Wine
Stilianou "Great Mother" Amber, $27/btl
Orange/amber wine from Crete! Heady aromatics with deep stone fruit and citrus notes and a finely textured palate.
Rose
Chemins de Bassac "Isa" Rose, $19/btl
With notes of watermelon, bright strawberry, raspberries, and a touch of rhubarb, this rosé is endlessly gulpable and refreshing with a clean, mineral-tinged finish.
Vignereuse "Mayga Watt" Pet Nat Rose, $32/btl
A fun and bright natural sparkling rose of Gamay with notes of wild raspberries and savory herbs.

---
Location & Hours
231 8th Avenue
New York, New York 10011
(212) 243-8888 ext 210
Open Daily Monday – Sunday: 12:00PM - 8:30PM
Delivery / Pickup Available Online Here or from Postmates
COVID19 Response
Foragers Wine Shop is still open for pickup / delivery. We can only take one customer in at the time. If you know what you want, you can call ahead of time to reserve your bottles for pick up. If you cannot come down to the shop, rest assured we will do our best to offer delivery through most of New York City (including Manhattan & Brooklyn). Give us a quick call to check if your address is within our delivery zone.
We are following CDC guidelines to keep our wine shop clean and sanitized. Please do not be alarmed if any of our staff is seen wearing masks and gloves; this is our way to protect our staff and our community.
Thanks for supporting your local wine shop!